History of the Ravenna Township Fire Department
Ravenna Township Fire Department was established in 1994 to provide Fire and Emergency Medical Services to the Residents and Visitors of Ravenna Township, Portage County, Ohio.
Prior to 1941, Ravenna City Fire Department would respond to emergencies in Ravenna Township at the discretion of the Mayor and Fire Chief.
From 1941 through 1994, Ravenna City provided Fire Services for Ravenna Township.
The City also provided Emergency Medical Services for Ravenna Township starting in 1980. Prior to that, local funeral homes would provide Emergency Medical Services.
In 1994, Ravenna Township utilized part of the service department as Fire Station 1 located at 6115 South Spring Street. Fire Station 2 was located at 6292 Gladys Street. The stations were staffed mainly with volunteers. In 1998, Station 2 was closed, and in 1999 the current fire station was added to the Service Department at 6115 South Spring Street.
In the late 90's part time firefighters were mainly used to staff the fire station, and in 2000, the first full time firefighter paramedics were hired. Today the department utilizes 6 full time firefighter paramedics and around 30 part time firefighters to staff the station.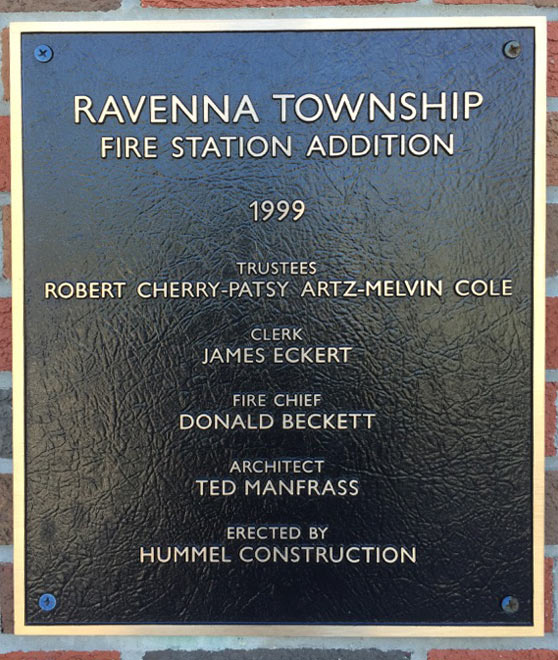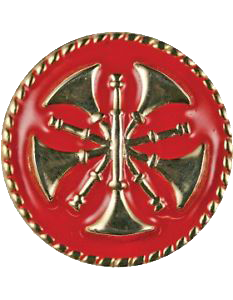 Ravenna Township Fire Chiefs
Colin Beichler
1994 to 1996

Jim DiPaola
1996-1999

Don Beckett
1999-2002

Steve Bosso
2002-2015

Mark Kozak
2015 to present
Below are pictures of fire trucks and ambulances that have been retired from service. Here are some interesting facts about some of the trucks.
We are constantly looking for more information and pictures of our history. If you have any information, please contact Chief Kozak. A special thanks to Firefighter Tim Benner for his research on this history!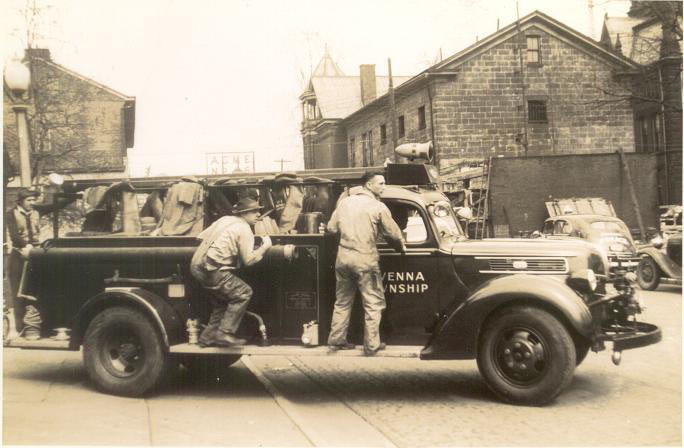 In 1941, the Township purchased its first fire truck on a ford chassis. Although we don't know much about this fire truck, we do know it was staffed by Ravenna City Firefighters and used to respond to Township calls. We believe Ravenna City Firefighters Suter and Vair are on this truck.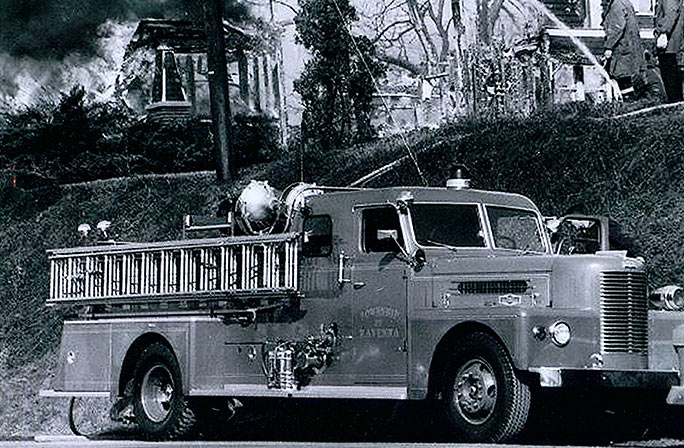 In 1955, the Township purchased a Peter Pirsch Pumper that carried 750 gallons of water for the cost of $16,000.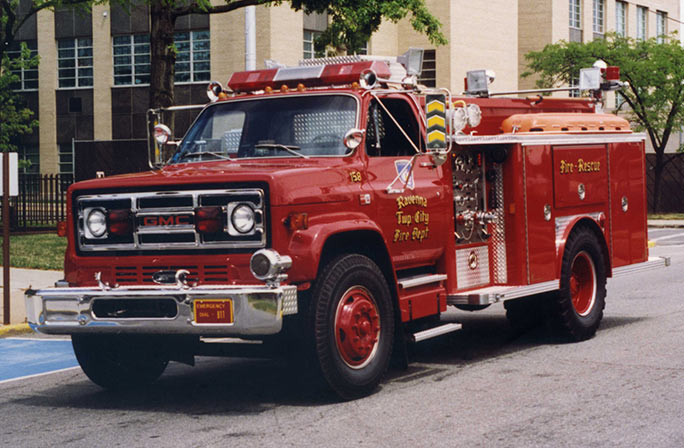 The 1986 GMC E-1 Midi Rescue Pumper is the only truck that had both Ravenna City and Ravenna Township decals.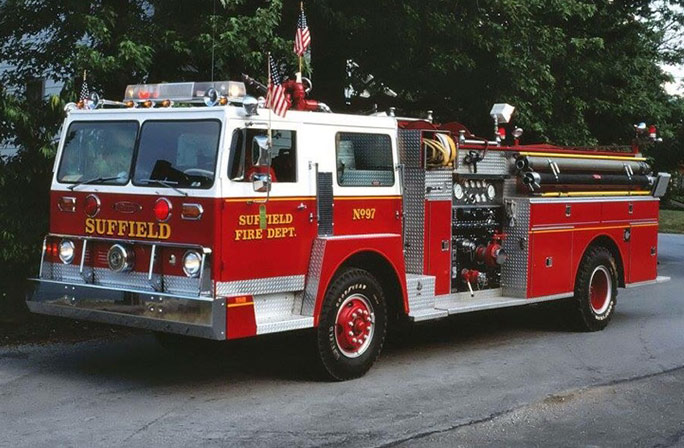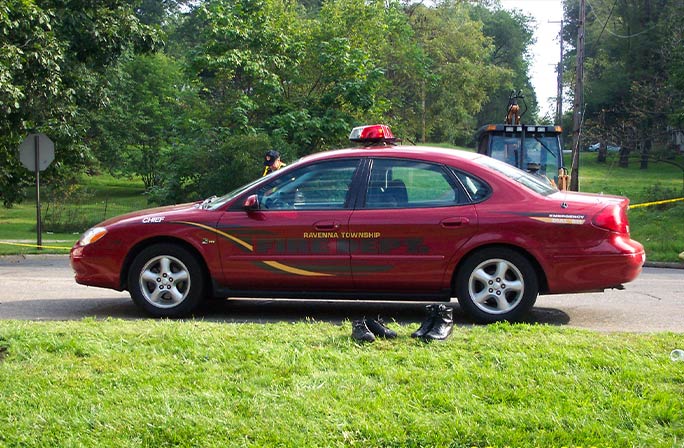 Late '90's Ford Taurus Chief's Car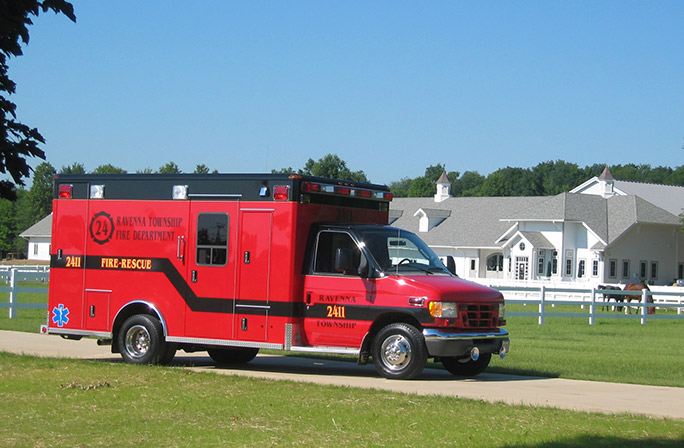 2003 Ford E 450 Wheeled Coach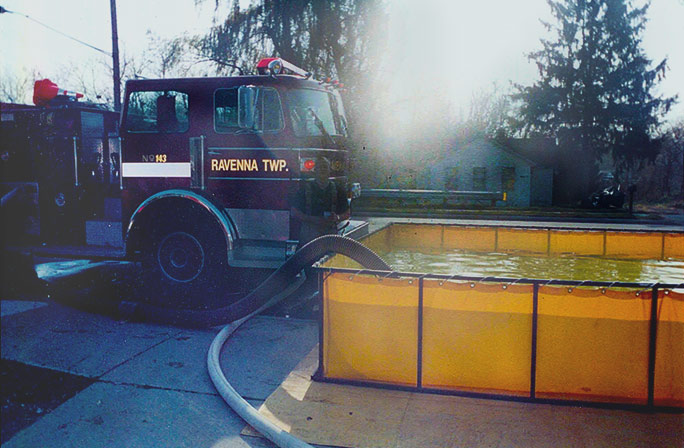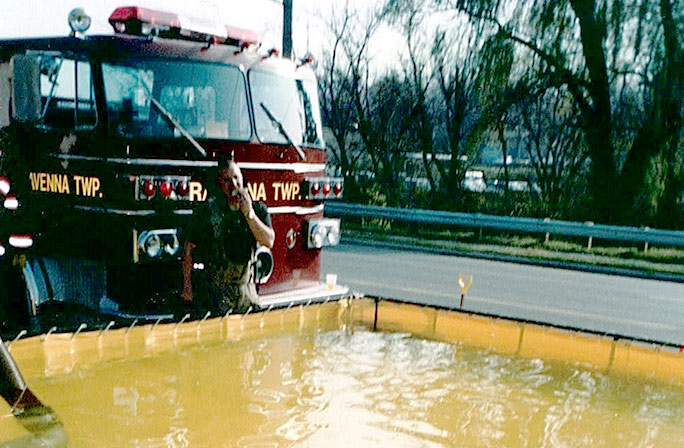 Replaced or Repurposed Apparatus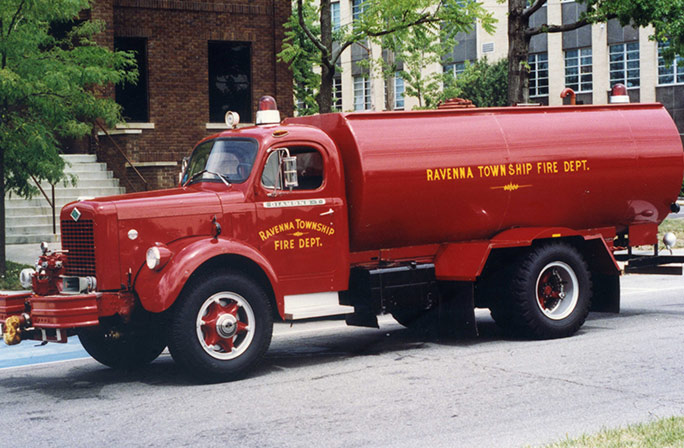 In 1962, Ravenna Township provided the City with a 1962 Diamond T Tanker that carried 1,850 gallons of water and had a 500 gallon per minute pump on it. This truck was replaced with Water Tanker 142 in 1992.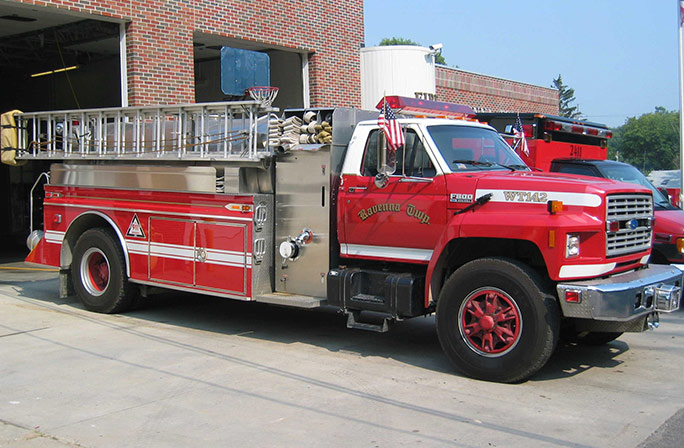 Water Tanker 142 was remounted onto a Chevy Chassis in 2003 and formerly ran as Tanker 2418 but was traded in 2016.
Purchased new in 1988, Engine 141 was a Pierce Lance Pumper.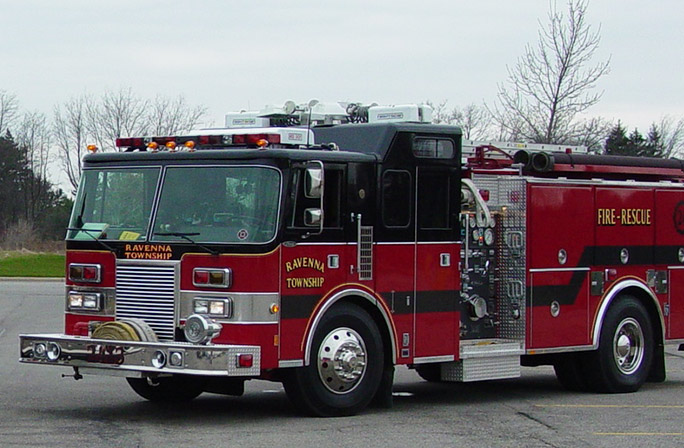 In 2003, Engine 141 was refurbished by RPI and ran as Engine 2413 until being removed from service in 2015.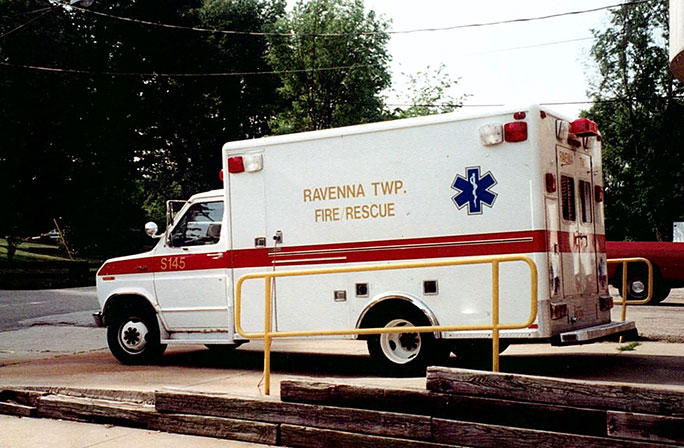 Squad 145 was in service when the Fire Department was founded in 1994. It was replaced by Medic 145 in 1999.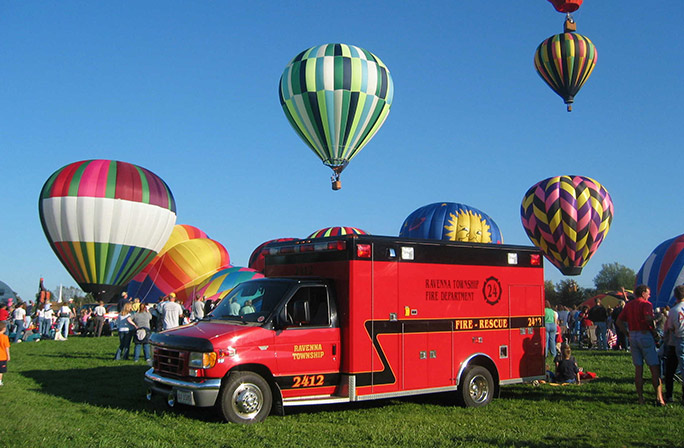 Medic 145, which became Squad 2412, was purchased new in 1999 from Wheeled Coach. It was removed from service in 2009. An interesting note, Squad 2412 was Ravenna Township AND Portage County's first fire vehicle to have the black over red paint scheme.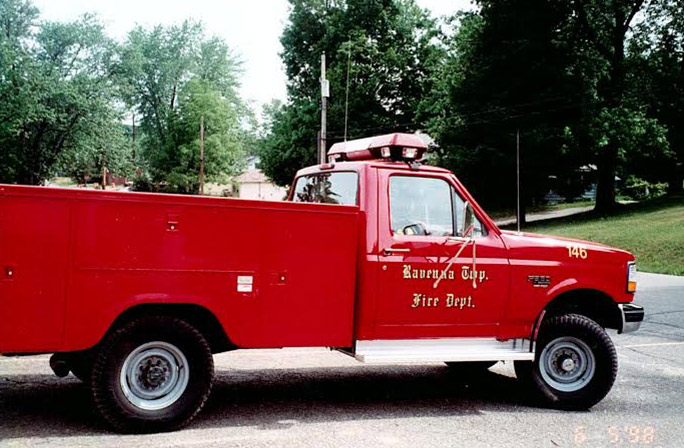 2417 Utility/Grass Truck was a 1997 Ford F-350 This vehicle was purchased new in 1997 and was used to respond to grass fires, emergency medical calls, and to send extra personnel to emergency medical calls.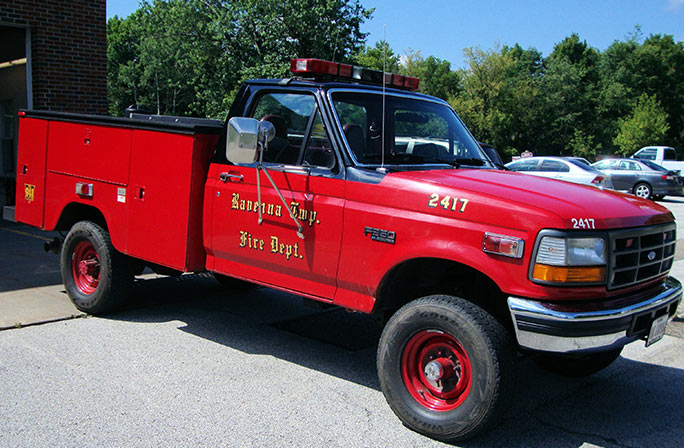 The 2417 Utility/Grass Truck vehicle was replaced in 2016 with a used 2016 Jeep Patriot.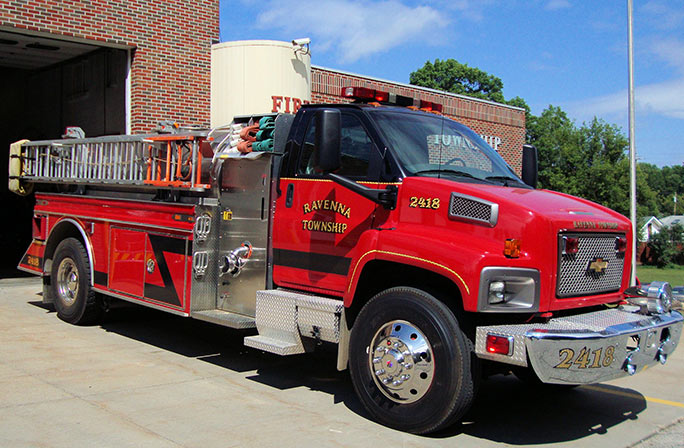 2418 Chevrolet S&S Tanker: This was a 1992 tanker that was purchased new by Ravenna Township. In 2003, a cost benefit analysis was conducted and it was determined it would cost too much money to repair the chassis' mechanical problems. At that time, the Township opted to remount this tanker on a new Chevrolet Chassis. This truck carried 2 firefighters, 1,800 gallons of water, and had a rating of 500 GPM.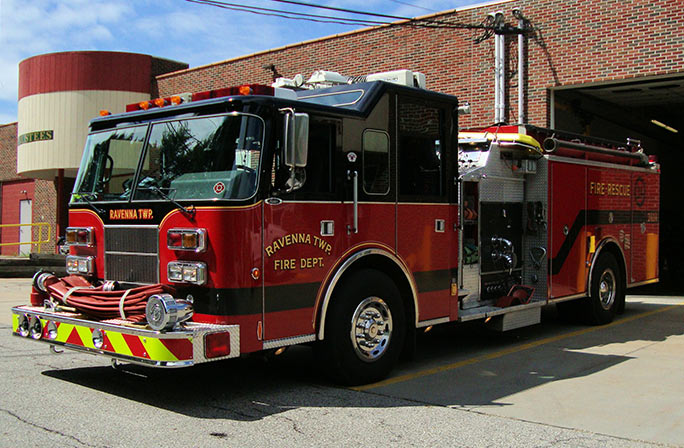 2414 Engine – This was a 2000 Pierce Engine purchased new in 2000. This fire truck held 6 firefighters, had a 1,500 gallon per minute (GPM) pump, carried 1,000 gallons in the tank, 5 air packs, a thermal imaging camera, a full set of extrication (Jaws of Life) rescue tools, cribbing, and water rescue equipment. We were able to trade both the 2418 Tanker and the 2414 Engine in exchange for the 2000 Freightliner Pumper Tanker that is currently running as 2418 By reducing the fleet from 3 fire trucks to 2, we were able to reduce the cost of maintenance, training, fuel, equipment, and testing.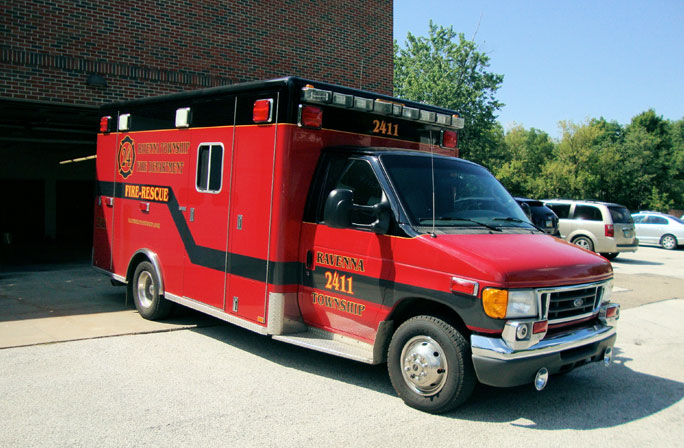 2411 Ambulance – This was a 2005 ALS Horton Ford E-450 purchased used in 2013. This vehicle was removed from service in 2017 and was replaced with a dealer demo to help save the department funds.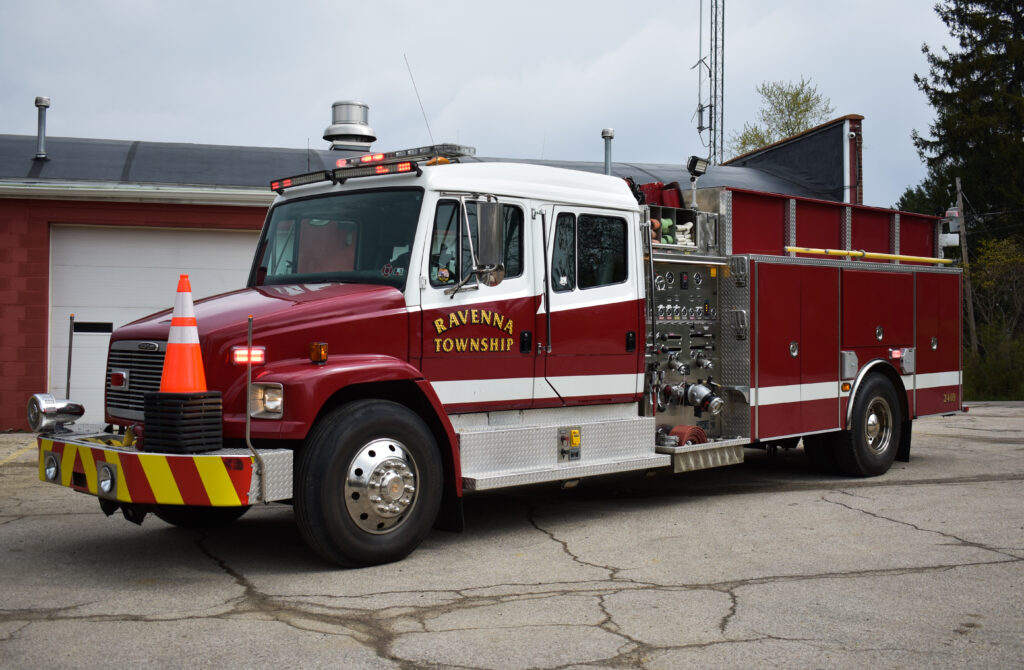 2418 was acquired used in 2016.  It is a 2000 4-guys/Freightliner that carries 1,500 gallons of water with a 1,500 gpm pump.  This truck replaced a pumper and tanker.  The two trucks were traded in and this truck did not cost the township any funds.