Welcome


to Ravenna Township
Ohio DNR Forestry prohibits outdoor open burning and prescribed fires in the months of March, April, May, October.
The Ravenna Township Trustees will meet on the following dates at 7:00 p.m. in the Public Meeting Room 6115 South Spring Street
1 event,
The Ravenna Township Trustees will meet in the Public Meeting […]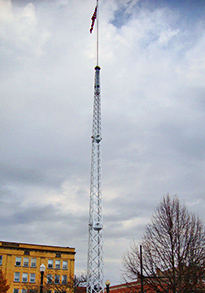 The Ravenna Township Flagpole
The flagpole in front of the Portage County Courthouse in Ravenna is a distinctive landmark that can be seen for miles and marks Ravenna's downtown area. It was built in 1893 for Ravenna Township and the Village of Ravenna by the Van Dorn Company of Cleveland, Ohio. In the fall of 1923, it was moved to its present location on land that was donated to Ravenna Township by the Tappen family. In 1994, the estate of Ralph A. Hinman bequeathed money to Ravenna Township for the maintenance of the flagpole. The Township now uses the interest from this bequest to purchase flags for the flag pole.
Click here to download information about the Ravenna Township Service Department.